Want to buy a cheap and profitable blog? Check the
FindABlog abandoned blogs
page to find blogs whose owners might have lost interest in blogging.
Solo Ads Sellers in the Cryptocurrencies Niche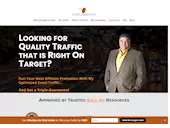 1. Straight Arrow Solo Ads
Work Only With The Best Solo Ads Provider with Guaranteed Results, High Optins, High Conversion! Right on Target Traffic to Your Website!
https://straightarrowsoloads.com/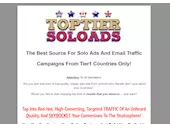 2. TopTierSoloAds.com
The Best Source For High Quality Tier 1 Solo Ad Traffic In Multiple Niches. Get Verified Targeted PPC Email Traffic From Top Tier Countries Only.
https://toptiersoloads.com/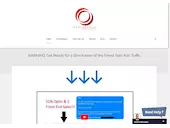 To find blogs in this niche, visit our sister site FindABlog.Net.
Niche Research
About the Cryptocurrencies Niche
A cryptocurrency, crypto-currency, or crypto is a digital asset designed to work as a medium of exchange wherein individual coin ownership records are stored in a ledger existing in a form of a computerized database using strong cryptography to secure transaction records, to control the creation of additional coins, and to verify the transfer of coin ownership. Cryptocurrency does not exist in physical form and is typically not issued by a central authority. Cryptocurrencies typically use decentralized control as opposed to a central bank digital currency. When a cryptocurrency is minted or created prior to issuance or issued by a single issuer, it is generally considered centralized. When implemented with decentralized control, each cryptocurrency works through distributed ledger technology, typically a blockchain, that serves as a public financial transaction database. Bitcoin, first released as open-source software in 2009, is the first decentralized cryptocurrency. Source: WikiPedia
Saki Says...
Yikes - this is a VERY competitive niche but if you had a blog in the cryptocurrencies niche you could potentially make a lot of money!

Interpreting the Results
The Keyword Competition Tool shows two values: a Competition Score and a Popularity Score.
Competition Score is an estimation of how much competition there is in this niche and how difficult it might be to get traffic from the major search engines if you had a blog in this niche. In other words it is an assessment of how difficult it would be to get in the top 10 search results for that keyword. It is expressed as a percentage (100% = most competitive).
Niche Saturation Score is an estimation of how many bloggers are actively blogging in this particular niche. It is also expressed as a percentage (100% = lots of people blogging about this niche, 0% = almost nobody is blogging about this niche). More show that bloggers are much more active in this niche. If you see mostly then it is likely that there aren't many bloggers blogging about this particular niche. This is definitely a good thing, as you will have less competition to worry about. However, it's likely this niche may be less suitable for running solo ads, as you may struggle to find enough related lists on which to run your offers.